Posts for tag: smoking
By James Tilger, DDS
November 15, 2020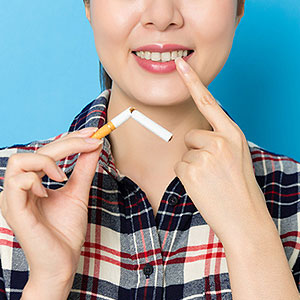 During his exploration of the Americas, Christopher Columbus encountered a native in a canoe loaded with water, food and a strange bunching of leaves. This marked the first European encounter with tobacco, a discovery that still haunts us to the present day. Today, millions smoke tobacco—and many suffer serious health problems as a result, including dental diseases like tooth decay and gum disease.
The American Cancer Society is sponsoring its 44th annual Great American Smokeout this November 19 when health providers across the country encourage smokers to kick the tobacco habit. Dentists will certainly be among them: Studies show that smokers are five times more likely to lose teeth than non-smokers due to a higher incidence of dental disease. Here's why.
Increased plaque and tartar. The main cause for tooth decay and gum disease is dental plaque, a thin, bacterial film that builds up on teeth. Brushing and flossing, along with regular dental cleanings, can keep plaque and its hardened form tartar from accumulating. But substances in tobacco restrict the flow of saliva needed to curb bacterial growth. This in turn can increase plaque accumulation and the risk for disease.
Hidden symptoms. Your gums often "tell" you when you have early gum disease by becoming swollen and red, and bleeding easily. But if you smoke, you might not get that early warning—the nicotine in tobacco interferes with your body's inflammatory response, so your gums, although infected, may look normal. By the time you find out, the infection may have already spread, increasing your chances of tooth loss.
Slow healing. Nicotine can also constrict the mouth's blood vessels, slowing the delivery of nutrients and infection-fighting antibodies to your teeth and gums. As a result, your body may have a harder time fighting tooth decay or gum disease, and diseased tissues can take longer to heal. Slower healing can also complicate the process of getting dental implants.
Increased oral cancer risk. Although it's not as prevalent as other cancers, oral cancer is still among the deadliest with a dismal 50% survival rate after five years. Smokers are six times more likely than non-smokers to develop oral cancer. But by quitting smoking and other forms of tobacco, you could reduce your oral cancer risk to that of a non-user in just a few years.
Kicking the smoking habit often takes a monumental effort, but it's worth it. Quitting not only improves your overall well-being, it could help you gain healthier teeth and gums. To learn how, see us for an up-to-date dental exam—we can show you how getting Columbus's most notorious discovery out of your life could do wonders for your smile and dental health.
If you would like more information about the effects of tobacco on your oral health, please contact us or schedule a consultation. To learn more, read the Dear Doctor magazine articles "Smoking and Gum Disease" and "Strategies to Stop Smoking."
By James Tilger, DDS
August 07, 2020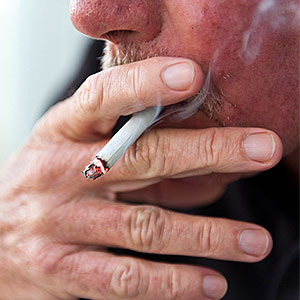 There are important reasons not to smoke, like minimizing your risk for deadly diseases like heart disease or lung cancer. But here's another good reason: Smoking increases your risk of gum disease and possible tooth loss. And although not necessarily life-threatening, losing your teeth can have a negative effect on your overall health.
According to the U.S. Centers for Disease Control, individuals who smoke cigarettes, cigars, pipes or e-cigarettes are twice as likely as non-smokers to develop gum disease, and four times as likely the infection will become advanced. Your risk may also increase if you're regularly exposed to second-hand smoke.
There are a number of reasons for this increased risk. For one, smokers are less likely than non-smokers to recognize they have gum disease, at least initially, because they may not display classic symptoms of an infection like red, swollen or bleeding gums. This happens because the nicotine in tobacco smoke interferes with normal blood circulation. As a result, their gums may appear healthy when they're not.
That same circulation interference can also inhibit the production and supply of antibodies to fight infection. Not only can this intensify the infection, it can also slow healing and complicate treatment. In fact, smokers are more likely to have repeated episodes of infection, a condition called refractory periodontitis.
But there is good news—smoking's effect on your gum health doesn't have to be permanent. As soon as you stop, your body will begin to repair the damage; the longer you abstain from the habit, the more your gum health will improve. For example, one national study found that former smokers who had not smoked for at least eleven years were able to achieve an equal risk of gum disease with someone who had never smoked.
Quitting smoking isn't easy, but it can be done. If abrupt cessation ("cold turkey") is too much for you, there are medically-supported cessation programs using drugs or other techniques that can help you kick the habit. And while it may be a long road, leaving smoking behind is an important step toward improving and maintaining good dental health.
If you would like more information on protecting your gum health, please contact us or schedule an appointment for a consultation. You can also learn more about this topic by reading the Dear Doctor magazine article "Smoking and Gum Disease."
By James Tilger, DDS
November 19, 2014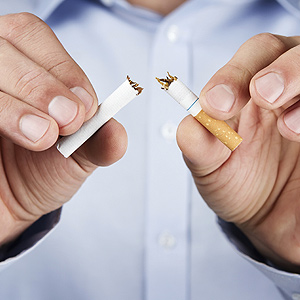 It's been widely established for decades that cigarette smoking contributes to cancer and heart disease. But did you know smoking will also increase your risk of tooth decay and periodontal (gum) disease, as well as nuisance problems like tooth staining, bad breath and diminished taste perception?
Its effects on your teeth and mouth are all the more reason to quit smoking. But deciding and following through are two different things: many smokers find it painfully difficult to quit due to their addiction to nicotine, tobacco's active ingredient.
But while difficult, it can be done. Here are 4 tips to help you follow through on your decision to quit smoking.
Change Your Response to Stress. Cigarette smoking is closely tied to the pleasure and reward areas of your brain. With its "hit" of nicotine, you sub-consciously identify smoking as a way to relieve the unpleasant feelings of stress. Instead, substitute other stress relievers when it occurs: going for a walk, talking to a friend or taking a few deep breaths. In time, this substitution will wear down the trigger response to stress you've developed with smoking.
Gradually Reduce Nicotine. You don't have to quit abruptly or "cold turkey": over the course of a few weeks, try switching to brands with decreasing levels of nicotine. Each week change to a brand with 0.2-0.4 milligrams less nicotine yield than the brand you were smoking the previous week. When you reach the lowest nicotine yield you can find, begin reducing the number of cigarettes you smoke each day. You can find a list of nicotine yields by brand at www.erowid.org/plants/tobacco/tobacco_nic.shtml.
Quitting Loves Company. While you're responsible for quitting, you may also benefit from the support of others. Usually eight to ten weeks of peer group sessions, a cessation support group provides instruction and ample structure with others engaged in the same struggle. You can usually locate one of these support groups by asking your healthcare provider.
Talk to Your Doctor or Dentist. Next to you or your family, no one wants you to quit more than we do! We can provide you information, treatment and encouragement as you take this big step toward improving your life and health.
If you would like more information on how to quit smoking, please contact us or schedule an appointment for a consultation. You can also learn more about this topic and more tips for quitting by reading the Dear Doctor magazine article "10 Tips to Help You Stop Smoking."